6 Reasons Your Children Should Meet Your Financial Advisor (and How to Make It Happen)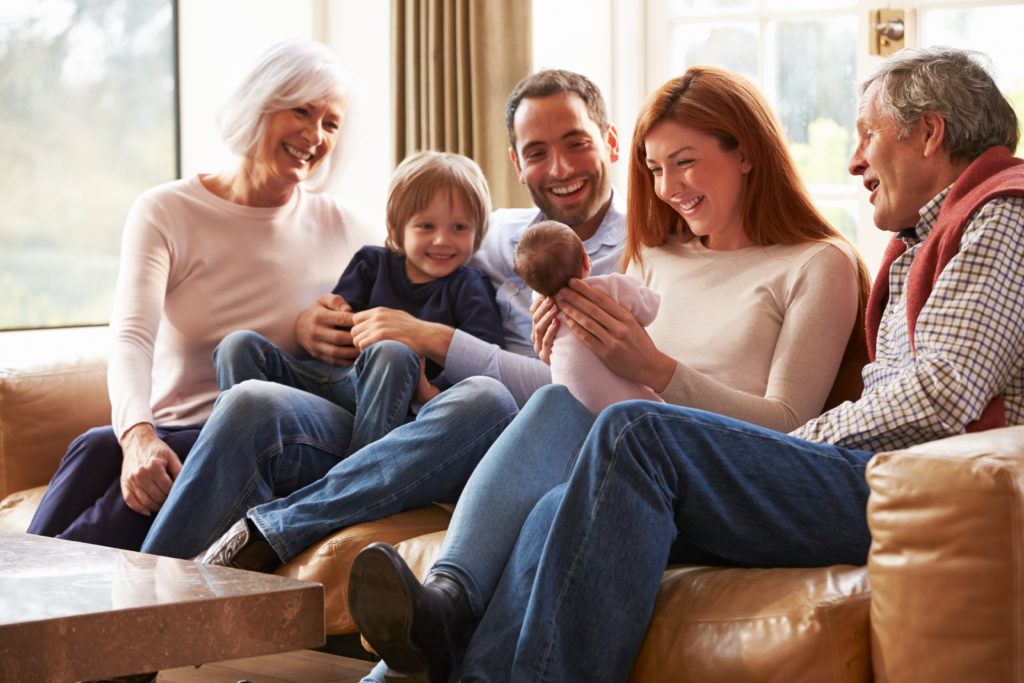 It fosters family values through honest communication. The goals behind almost every estate plan go well beyond moving wealth around. We all strive to instill the values that lead to fulfilling and productive lives for our children and grandchildren. A well-designed meeting is a powerful tool that families can use to communicate their vision for a healthy legacy. These meetings can build trust and help families grow and prosper across time.
It gets the conversation started. For many parents, it's difficult to unveil information about their assets to their children. However, the discussion can begin with a look into general philosophies about money management and the overall goals of the estate plan. This conversation need not include details about the scope and size of assets.
Your children gain insight about avoiding the psychological pitfalls of inherited wealth. Perhaps your heirs have never managed a substantial amount of money. Perhaps they have a sense of entitlement. What if the main thrust of your heirs' retirement strategy is all about waiting on their future inheritance? Sharing your expectations, hopes and dreams for future generations can help avert the disasters brought on by these kinds of money madness. Conversations about family strategies for education can be especially powerful.
Even the best estate planning structures are not enough to protect assets from heirs who have not been prepared for their inheritance, trust and communication deficits among family members, or the failure to share a clear mission for family wealth. 
It introduces the next generation to a seasoned advisory firm. Your heirs might not have accumulated the minimum in assets that seasoned advisory firms often require. However, some firms welcome the chance to serve the next generation, especially those of clients with whom they have long-term relationships, regardless of account size. These well-established firms are often prepared to match younger clients with their younger advisors who are better suited to develop the best rapport with them. And, of course, getting an early start with a trusted financial planner can make a crucial difference in your heirs' own lifetime accumulation of wealth.
It increases the probability of legacy success. Unfortunately, many wealth transfers do not go well. In their 2003 research, independent wealth transfer consultants Vic Preisser and Roy Williams found that 70% of family money evaporates by the end of the second generation, and 90% by the end of the third generation. Assets are depleted and family relationships may be damaged in the process.
Even the best estate planning structures are not enough to protect assets from heirs who have not been prepared for their inheritance, trust and communication deficits among family members, or the failure to share a clear mission for family wealth.
It prepares you for the possibility of needing your children's help. Will you be able to afford eldercare? If not, can your children afford it? Who will be responsible for this potential transition? Planning ahead will allow you to prepare for issues you may encounter later in life by using sound principles, and not the emotions brought on by an event-driven crisis.
Why Most Families Don't Discuss Wealth Transfer
♦ Privacy. It's difficult to transition from being in complete control of your finances to letting others in on the plans and perhaps even some of the control.
♦ Myths. Many people expect that their estate planning documents and structures are enough to ensure that their goals will be met.
♦ Uncertainty. They don't know where to start.

Characteristics of a Successful Family Meeting
♦ The extent of the information that will be shared is defined ahead of time.
♦ It takes place in a neutral setting.
♦ All of the professionals on your team who you would like to participate are present.
♦ Your financial advisor performs the role of facilitator and helps you communicate your goals to the rest of the family. (In some cases, it may make sense to bring in a non-advisor specialist whose entire practice revolves around family governance.)
♦ Your advisor connects with the next generation.
♦ Through education, your heirs are prepared for their inheritance.
♦ The setting allows for honest and collaborative communication even for those who cannot physically attend the meeting.
♦ The values and mission of your estate plan are explained.
♦ Questions are asked and answered.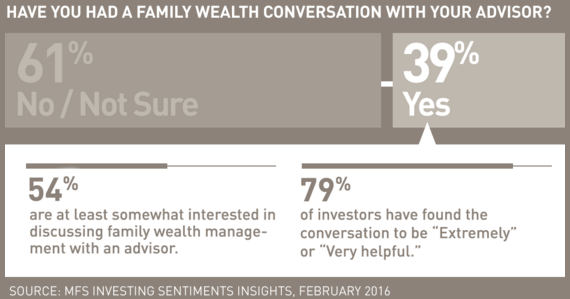 Your Financial Advisor Can Help With Next Steps
♦ Talk to your children (or your parents) about scheduling a family meeting. Tell them you want to be sure that they will be okay in the future.
♦ Work with your advisor to determine what topics should be discussed, and which (at least for now) are off limits.
♦ Decide who should attend. Try to include as many family members as possible.
♦ Choose a neutral setting for the meeting.
♦ Plan your meeting now, before a financial or health crisis arises.
♦ Work with your financial advisor to help prepare the agenda and rules for the meeting.
Please remember that past performance may not be indicative of future results. Different types of investments involve varying degrees of risk, and there can be no assurance that the future performance of any specific investment, investment strategy, or product (including the investments and/or investment strategies recommended or undertaken by TGS Financial Advisors), or any non-investment related content, made reference to directly or indirectly in this article will be profitable, equal any corresponding indicated historical performance level(s), be suitable for your portfolio or individual situation, or prove successful. Due to various factors, including changing market conditions and/or applicable laws, the content may no longer be reflective of current opinions or positions. Moreover, you should not assume that any discussion or information contained in this article serves as the receipt of, or as a substitute for, personalized investment advice from TGS Financial Advisors. To the extent that a reader has any questions regarding the applicability of any specific issue discussed above to his/her individual situation, he/she is encouraged to consult with the professional advisor of his/her choosing. TGS Financial Advisors is neither a law firm nor a certified public accounting firm and no portion of this article's content should be construed as legal or accounting advice. A copy of the TGS Financial Advisors' current written disclosure statement discussing our advisory services and fees is available upon request.